Item Description: U.S. Army Assault Gas Mask
Introduction: On an internet auction site, Battledetective.com acquired a U.S. Army Assault Gas Mask. This is the "story behind the mask".
The Story:
On a Dutch auction website we bought a relic from combat in Eindhoven. Patrick, from Someren, sold us a much battered U.S. Army Assault Gas Mask. When asked how he found it, Patrick stated:
"The mask had surfaced after digging for construction work. I saw it more or less by accident on Queen's Day*. After partying in Eindhoven we walked back to the car which was parked on the Eindhoven Technical University's campus. When I crossed the Dommel River bridge, the mask caught my eye. So I didn't actually search the area but as a collector of World War Two items, I always keep an eye open."
* In 2005; Queen's Day is a holiday in The Netherlands celebrating the Queens birthday.
The Technical University today is situated in the route of advance of 2nd Bn/506 in their flanking move in South-Eastern directing, avoiding the resistance 3rd Bn/506 was encountering on Woenselse Straat and Klooster Dreef (see Case File # 2) as indicated on this map: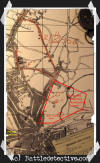 In "Hell's Highway" by George Koskimaki, in the Paragraph named "Medic Up Front!", we read: