While in the Vicksburg National Military Park, Battledetective.com took this picture of a monument, honoring the soldiers of the Union State of Wisconsin:
(click on the image to enlarge)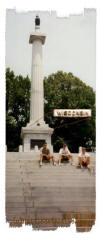 Wisconsin is in fact the state where the roots of the 101st Airborne Division lie.
This is the official history of the 101st and its Divisional Shoulder Sleeve Insignia:
The 101st Division of World War I had been organized at Camp Shelby, MS, on July 23, 1918. The division was demobilized December 11, 1918 as a result of the Armistice ending the war. In 1921, the 101st Infantry Division was reconstituted and organized as a unit of the Organized Reserves with headquarters at Milwaukee, Wisconsin.
An early 101st Division insignia with a white eagle over flames on a royal blue shield was apparently worn for a period prior to 1923. In that year, a new version was approved for the Organized Reserves unit in accordance with the following description from the Secretary of War:
"SHIELD: 2 ˝ inches in height, sable the head of a bald eagle erased proper.
The design is based on one of the Civil War traditions of the State of Wisconsin, this State being the territory of this division.
The black shield recalls the old "Iron Brigade" one of whose regiments possessed "Old Abe" the famous war eagle." Civil War records do not show the 8th Wisconsin Infantry Regiment as part of the "Iron Brigade," originally known as the "Black Hat Brigade."
With World War II already underway, the 101st Division, Organized Reserve, was disbanded August 15, 1942, and a new airborne unit constituted on the inactive list the same day. One day later, Augusts 16, the 101st Airborne Division was born, with Old Abe still on the insignia but now topped with the "Airborne" tab.

From: The History of the 101st Airborne Division (Air Assault), Fort Campbell, KY, June 2006.