Case Title: Hertog Straat Shoot-out
Subject: Gunbattle between "E"Co./506 and retreating Wehrmacht soldiers on Hertog Straat.
Date: September 18th, 1944
Location: Eindhoven, Holland
Introduction: On pages 66 in the 1992 issue of Karel Margry's book "The Liberation of Eindhoven, With English photo captions", we read: "Many Germans indeed realized only on a very late time, for some it was too late, that Eindhoven had fallen. In trucks and in private motorcars they came rushing into the city, coming from the direction of Aalst, evidently on the run from the British Army, but unaware of the fact that the Americans already had arrived.
This is a picture that most likely is taken on the 18th of September 1944. It shows German soldiers on the corner of Stratumse Dijk and Hertog Straat in Army trucks coming into Eindhoven from the South.
(Click on picture to enlarge)

The Story: Margry continues: "On Hertog Straat, a car was stopped by rifle fire from vigilant paratroopers in foxholes dug in the landscaping of
that street. Two Germans were killed. The others kicked in a door of a house and attempted to escape. In vain.
Not even an hour later, almost the same happened a bit further up Hertog Straat. A car with about ten Germans in it, was shot at. The Germans tumbled out of their ruined vehicle and ran for cover in a doorway. From two sides, Hertog Plein and the corner of Hertog Straat and Geldropse Weg, they were shot at. An eye-witness remembers: 'One of them, while already with his hands high up, was riddled and cut completely in half. That awful sight I will not soon forgetí'."

Eindhoven City Council Member Jan van Hout, who in 2004 had arranged for a monument dedicated to the fallen troopers of the 101st in the Liberation of Eindhoven to be unveiled, was 15 years old at the time. This picture show Jan (left), 101st Veteran William P. Galbraiht and Mayor Alexander Sakkers of Eindhoven, posing for the camera after the unveiling of the monument in 2004.
(Click on picture to enlarge)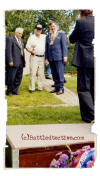 On Monday, the 18th of September 1944, Jan watched paratroopers of the 101st relaxing on top of the dirt mound that covered an air raid shelter next to the Sportfondsenbad public swimming pool on Stratumse Dijk.
This is what these air raid shelters looked like, only this picture is taken on Wezel Straat a few hours before the incident in this Case File: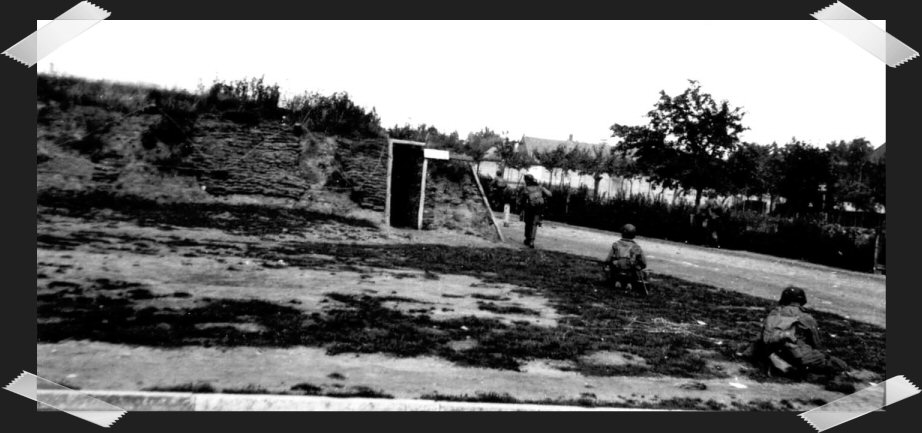 The Sportfondsenbad is close to Hertogstraat and Hertog Plein as this map shows: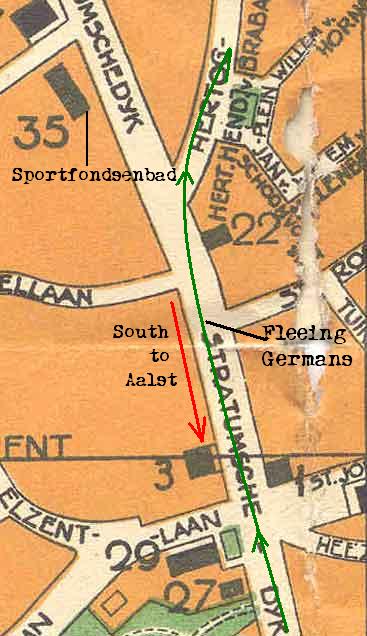 Jan remembers: "I was watching one paratrooper who was putting a rod in the from of the barrel of his rifle, moving it up and down. I was a bit upset by the fact that these modern looking soldiers were evidently equipped with muzzle loaded muskets. I was afraid that the Germans with their bolt action rifle, and automatic machineguns would have much more firepower than our liberators. Then, all of the sudden all hell broke loose. Automatic fire came from an adjacent street. The paratrooper gestured me to take cover and he moved toward the sounds of battle. It was a short fight, but to my relieve I saw that the Americans had automatic weapons too."

What Jan saw was probably the paratrooper cleaning the barrel of his rifle with a cleaning rod...
This picture is taken on Vestdijk, the extension of Hertog Straat, on that day: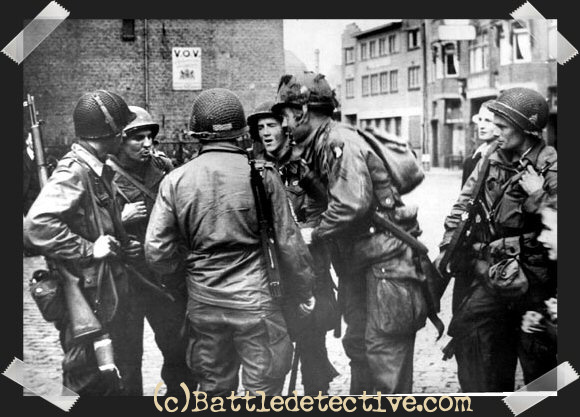 It shows several paratroopers who have been identified as members of "E"Co./506th.
April 29th, 2010 UPDATE
We received an e-mail from one of this website's visitors reading:

"I was reading [...]your write-up of the Hertog Straat Shoot-out.
[...]
I have had the pleasure of speaking with Earl McClung (3rd Platoon, E/506) on several occasions.
He told me of an action that sounds remarkably like the one you described.
As Earl told it, he and Don Moone (also of 3rd Platoon) were the lead and connecting scouts heading into town.
While advancing in, a German truck with "a bunch of" troops rolled towards them.
Moone hit the truck in the radiator with a rifle grenade, halting it and in the process, destroying the engine area
(I believe the driver and passenger up front where killed or wounded).
The remaining German troops abandoned the vehicle and Earl and Don opened fire, killing several. When four of the remaining Germans fled into a building, Earl gave chase.
When I asked Earl what he did h e said, "Hell, I killed 'em!"

Again, it sounds like Earl was describing the action you cited from the Margy book.

Additionally, the troopers in the picture at the bottom of the page are all from Easy's 3rd Platoon, with the exception of Carwood Lipton, who was the Company First Sergeant by then.
Lipton had originally been assigned to Easy's 3rd Platoon.
From left to right: Unknown, Amos Taylor, Lipton, Jim Alley, Bill Kiehn, Campbell Smith

I hope you can find a use for this information if you do not have it yet.
Hang Tough,
Joe "Mooch" Muccia
Putting the accounts in Margry's book, of Jan van Hout and of Mr. McClung's and this photograph together, it is our hypothesis that members of "E"Co./506th were involved in the shooting on Hertog Straat.